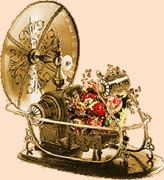 October 1, 1999


We did it, we survived it, we had a blast at it! A very big thank you to our families and all our guests for helping make it such a wonderful and memorable evening.

I have bunches of photos, with more to come, and I'll be adding them in bits and pieces as life permits.

Why "Time Machine"? Well, as these things often do (at least for me), it started with a dress. In this case, a circa-1905 vintage treasure that wasn't what I initially thought I was looking for. But that's a long story...
What We Wore:
Valerie's Adventure in Wedding Dress Restoration - Watch the bride play with 94-year-old silk.

Costume Pictures - Our guests show off their "choose-your-own-period" finery.
How We Celebrated:
The Ceremony
Wedding Resources:
Costume Information Links - Having a historical costume wedding? A list of resources to get you and your guests started.
Where We Registered:
Who Fed Us:

A Work Of Art Cake Design by Jennifer

Who Took Pictures: DMH Photography
Who Made Val's Ring: deSignet International
Who Made Jack's Ring: Badali Jewelry